As you all know, I consider myself a crunchy Mama, and one of my crunchy priorities is using safe, green and natural cleaners in my home. I am proud to say I no longer have any awful chemical filled cleaners in our house! I recently had an opportunity to test drive a wide variety of
Simple Green
products and I was blown away. Not only is their customer service phenomenal(they even sent 2 little stuffed animals for my kids!!), but their products really work! Now, I was shocked when I showed my Husband my
Simple Green
products, because he knew about them! I honestly didn't think he paid attention to which brands he likes, but apparently he is in love with this:
Apparently when he worked on the farm and greased up tractors, they used this stuff to clean their hands with. He sang praises about the smell and how well it works. Like I said, I was shocked. Yay for him loving something that contains natural ingredients like pumice stone!
What I was sent for review was this:
I hit the motherload! I want to go over each product with you, because I have now tried them all!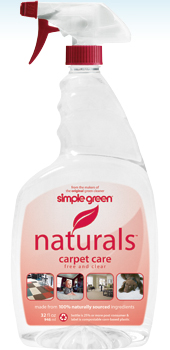 Ironically the very same day I got this my little Violet decided to smear banana all over my couch. There is a
Simple Green Naturals Carpet Care
cleaner and I decided to use it on my couch and it worked beautifully! If you buy this product individually, it sells for only $3.99! The price shocked me. I could easily pay way more than that for a product filled with horrible chemicals.
The next item I tested out was the
Bathroom Cleaner
. This cleaner is non-toxic, biodegradable and never tested on animals. It cleaned every single item in my bathroom without any hard scrubbing and the best thing is the rosemary mint scent! I felt happy knowing my bathroom was clean, smelling good and no fumes! This individually also sells for only $3.99!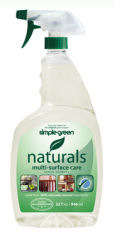 The
Multi-Surface Care
cleaner is amazing for(of course!) any surface. I use it my kitchen mostly, since I have the Bathroom Cleaner, but I have also used it on my kitchen table and to clean gunk off the walls. It's about time for me to buy more though! This is also only $3.99! You cant beat that price for a natural cleaner. I would much rather have this product in my house than something filled with chemicals or bleach!
Next up is the
Glass and Surface Care
cleaner. This is mostly used for glass in our house, though I have used it to clean metal as well. This gets my glass sparkling clean! No streaks at all, and like all of the other
Simple Green
Naturals cleaners, it is non-toxic, biodegradable and never tested on animals. You guessed it, this sells for $3.99 as well!
I finally just got to use the
Floor Care
cleaner, though I have no clue why! I should have used it a lot sooner! I love that you can just spray it right on any floor surface and wipe up. No need for a mop and bucket and it does not leave your floor sticky. It also has a nice woodsy scent!
I absolutely LOVE the
Dish Washing Liquid
. It has a great fresh squeezed citrus scent, is all natural(duh!) and works amazing! I have ran into some natural dish soaps that aren't very sudsy, but this stuff is nice and sudsy! A little bit really goes a loooong way.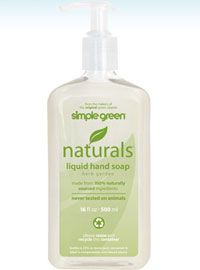 That brings me to the
Simple Green Naturals Liquid Hand Soap
. I think this is my Husband's second favorite item. Apparently he loves the various hand cleaners they make! This has a nice herbal scent, is nice and sudsy and works very well. I don't get dry hands and my three year old loves to use too much of it! Both the Dish Liquid and the Hand Soap are also $3.99 each individually.
All of these items come in a kit with a reusable grocery bag for $24.99! This is the kit I am going to be giving away to one lucky reader.
The last item they sent me was the
Simple Green Naturals Dilutable Concentrated Cleaner
. Not only is this only $5.99 for 48 ounces, but it works amazingly well. I just took this over to my aunt's new house to clean the walls before we painted and it worked like a charm. The house didn't have any awful fumes and we got it all clean! This also has a nice herbal smell to it!
I am completely in love with this natural line of cleaning products. I love knowing my house is clean, yet safe. I don't have to gag while cleaning or get overcome with heavy fumes. I love that I can purchase these items at places like Lowes!
You can purchase any of the
Simple Green Naturals
items
here
.
You can also
find a store
near you!
WIN IT!
Open to US only, ages 18 and up and no P.O. Boxes!
One extremely lucky Getting Kinda Crunchy reader is going to win the same kit I received minus the dilutable cleaner. To enter, tell me which product you are most wanting to try and why! This entry is mandatory and please leave me your email address!
Extra Credit
- Follow Simple Green on
Twitter
- Follow Simple Green on
Facebook
- Follow me on Google Friend Connect
- Follow me on Networked Blogs
- Follow me on
Facebook
- Follow me on
Twitter
- Tweet this giveaway daily for one extra entry per day. Make sure you come back every day and leave me a comment as well as your tweet link. Use this tweet
Getting Kinda Crunchy is giving away a Simple Green Naturals Kit @crunchyngreen #giveaway ends 7/30 @simplegreennews
- SUBSCRIBE!
- Blog about this giveaway and leave me the link
- Grab my button and leave me the link
- Grab my Baby Shower Bash button and leave me the link
- Vote for me on Top Mommy Blogs. To vote, click the picture in my right sidebar.
This giveaway will end July 30th at midnight. The winner will be chosen via random.org and will be notified by email and a posting on this blog. As always, they will have 48 hours to respond before I pick a new winner! Thanks guys and good luck!
A HUGE thank you to the lovely people over at Simple Green for this amazing review and giveaway opportunity!
Disclaimer: I recieved product to review. I was not paid to write this and all opinions are my own!