Wool love! I have caught a definite bug. I love that wool creations are unique and one-of-a-kind. I love that Hyena Cart is overflowing with wool creations that are easily accessible. What I love even more is affordable wool! Lord knows it can get expensive. Enter
TerraMade
! TerraMade has a Hyena Cart shop, as well as a website, and her wool creations are adorable! Terra 's shorties/longies/soakers custom slots are only $14.95 for a basic pair and then you can add on other custom items, such as embroidery or make them into a skirtie, at extra cost! I had the privillege of reviewing a gorgeous pink skirtie from them and I could not be happier! I have always wanted my daughter's butt in a skirtie and now my wool dreams have come true, thanks to Terra!
TerraMade
was founded in 2009 and is a home based online store out of Sioux Falls, SD. They offer a wide variety of natural living items, not just wool! All of their prices are affordable and all of their items are made in the USA! I love that they support fair trade practices and support work at home Moms! The wool products that
TerraMade
offers are made out of upcycled wool sweaters of other recycled items! I absolutely adore this about them. Not only are we saving the world by cloth diapering, but using recycled items to get those cloth diapering materials is even better!
For review I was sent a pink skirtie! I was absolutely giddy when I received this! Have a looksie at my daughter!
The outfit I put her in with the skirtie!
Her "cheeeeese" face lol I had to post it!
There's Violet trying to twirl her skirtie! She loves holding it like that. So adorable.
I love the attention to detail she put into this skirtie. I gave her my daughter's measurements and the skirtie fits perfectly. I always wonder and get worried about measurements and things, but I didn't need to worry with
TerraMade
. There is a cute little tag on the inside that has an M for medium and the part that covers the crotch area has a little bit of extra fabric there, almost like a liner! I thought that was so adorable and unique. Such a nice touch. My daughter loves dancing around in her pink skirtie because the skirt part if nice and flowy. I have gotten dozens of comments from people at the grocery store about this skirt, but little did they know it's for cloth diapers! I am learning that wool is much more convenient, because you dont need clothing to go over it, it functions as the clothing and the diaper cover!
I wash my skirtie by dissolving 1 tsp of lanolin per woolie that I wash in a bowl with warm water and a squirt or 2 of wool wash. I let this sit overnight and then I throw it in the washer on the spin cycle to get all the water out. After that is done, these babies go outside with my other wool for a good Arizona sun dry! That's it. You only have to wash once a month unless they get severely soiled. The lanolin turns the baby's urine into salt so there is no odor. Wool is also a natural antibacterial fabric so there are no bacteria odors either! Sucha win-win situation!
I highly recommend
TerraMade
for all your wool, cloth diaper and natural living goods needs! Check out some of the other products they carry:
Charlies Soap, as well as wool dryer balls and other
natural cleaning products
!
Mama cloth and nursing pads!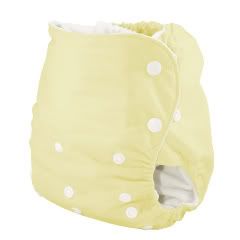 Knickernappies
PUL cloth diapers
!
You can check out Terra's
Hyena Cart
or her
website
!
Check out
TerraMade
for all your custom woolie needs. They are affordable and still a very high quality!
WIN IT!! - Open to US only!
One super lucky Getting Kinda Crunchy reader is going to win a $14.95 gift certificate to TerraMade! To enter, head over to the
online store
and pick a favorite item that is different from the one I reviewed! Come back here and tell me what that item is! This entry is mandatory and please leave me your email address in case you win!
Extra Credit!
- Reduce/reuse/recycle today!
- Follow TerraMade on
Twitter
- Follow TerraMade on
Facebook
- Follow me on Google Friend Connect
- Follow me on
Facebook
- Follow me on
Twitter
- Tweet this giveaway for one extra entry! You can tweet once a day for one entry a day! After your daily tweet, come back here and leave me another comment!
- Grab my button and leave me the link
- Blog about this giveaway and leave me the link
- Subscribe to my newsletter!
- Vote for me on Top Mommy Blogs. To vote, click the picture in my right sidebar!
This giveaway will end June 24th at midnight. The winner will be chosen via random.org and will be notified by email and a posting on this blog. As always, they will have 48 hours to respond before I pick a new winner! Thanks so much guys and good luck!
A HUGE thank you to TerraMade for thie review and giveaway opportunity!